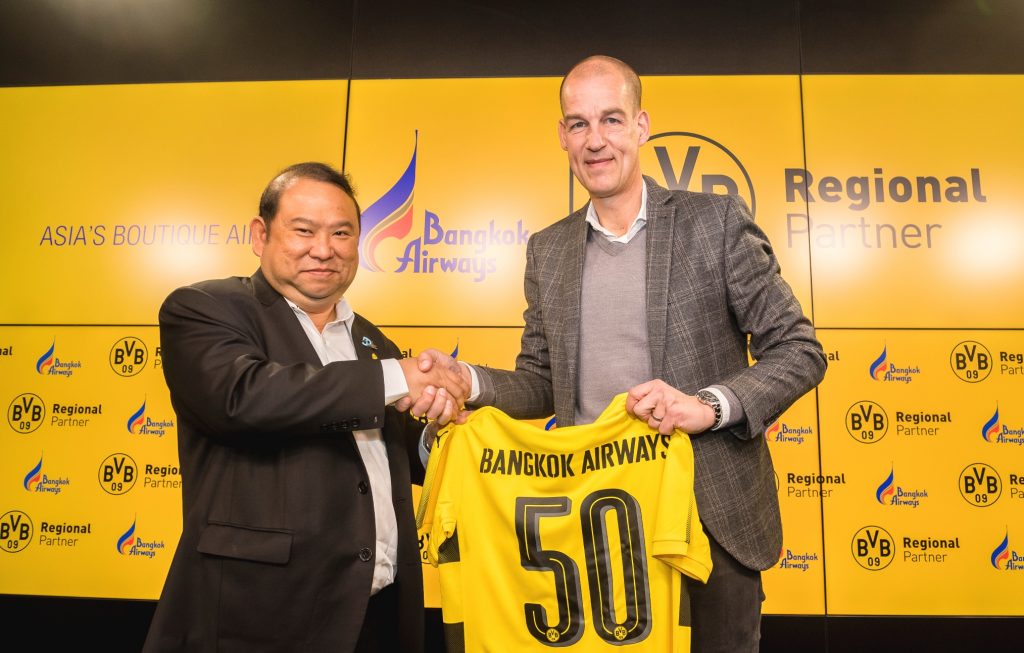 Dortmund, 11th March 2018 – Bangkok Airways, Thailand-based regional airline and German football club Borussia Dortmund, announce a partnership deal today at Signal Iduna Park in Dortmund, Germany. This marketing deal is to leverage branding corporation of the two dynamic and motivated companies to tap into larger market reach in Asia.
Borussia Dortmund is one of Europe's most successful football clubs with a traditionally strong fan base in Asia and the world and Bangkok Airways is proud to officially announce a "Regional Partner of Borussia Dortmund". The corporations include a variety of advertising and promotional components of the co-branding campaigns in Thailand, Southeast Asian countries, China, Hong Kong, India and Bangladesh which will enhance the airline's brand recognition across the regions.
Bangkok Airways' President, Mr.Puttipong Prasarttong-Osoth said: "We are so proud and excited to partner with Borussia Dortmund, an eight-time German Champions. With Borussia Dortmund's strong global brand presence and a huge fan base, we believe that it will strengthen Bangkok Airways' brand image as Asia's Boutique Airline as well as make the airline better known across Asia and Europe which are our main customer bases".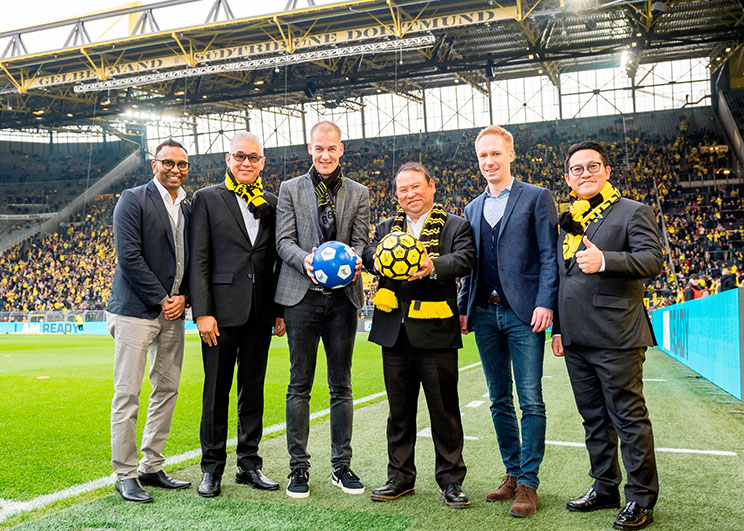 Apart from traditional scope of sponsorships like co-branding and advertising campaigns running throughout 2018 to 2020, the highlight is BVB Evonik Football School for children as giving back to the community has been part of our business roadmap for many years. We will work with our dedicated CSR team to make this sponsorship activation tangible" added Mr.Puttipong.
Mr. Carsten Cramer, Chief Marketing Officer of Borussia Dortmund states: "We are excited to partner with Bangkok Airways that have strengthened their award winning position over the last couple of years in Asia. Both of us we are ambitious and aspiring brands and are looking forward to introduce our cooperation across Bangkok Airways' key markets."
Bangkok Airways together with Borussia Dortmund are in talk with Sport Authority of Thailand (SAT) and the Thai FA for the possibility of initiating a special coaching program to implement Dortmund's coaching expertise for Thailand's national youth teams (U13, U15, U17 and U19) with the sponsorship of Bangkok Airways.
The signing is expected to also help promote Thailand's tourism through various advertising campaigns with Borussia Dortmund. It is believed to be appealing to Germans and Europeans who are among Bangkok Airways' main customers to consider Thailand as the destination for their travel.
Bangkok Airways signs 2-year sponsorship deal with Borussia Dortmund as regional airline partner which includes advertising and promotional presence in Thailand, Southeast Asia, China, Hong Kong, India and Bangladesh, for examples, the use of player images, social media communications, legend appearances as well as marketing activation such as BVB branding at Bangkok Airways' own airports in Koh Samui, Trat and Sukhothai in Thailand.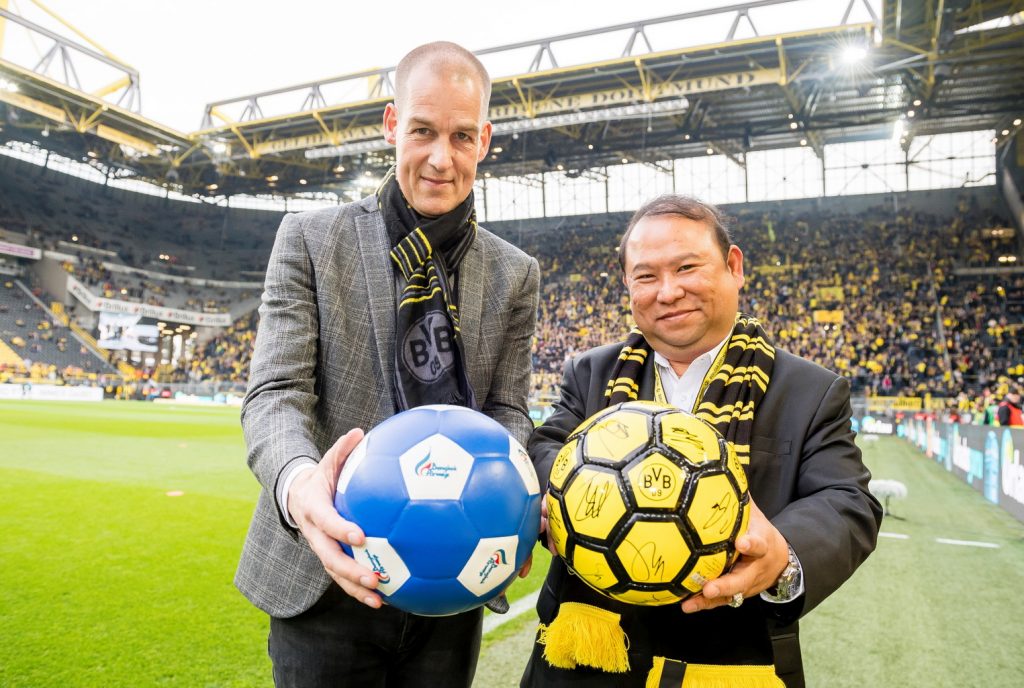 About Bangkok Airways
Bangkok Airways (www.bangkokair.com), with the ASIA'S BOUTIQUE AIRLINE slogan, is the first private airline established in Thailand since 1968. Taking off daily with about a hundred flights per day from Bangkok's Suvarnabhumi Airport, Bangkok Airways flies travelers from around the world to more than twenty five exquisite destinations across Thailand and Asia. To name a few; Samui, Phuket, Trat (Koh Chang), Maldives are amongst the most popular beach selections; whilst Sukhothai, Luang Prabang, Siem Reap (Angkor), are of the world heritage personalities, each of which possesses her unique flair. Currently, Bangkok Airways' fleet consists of 38 aircrafts; 6 ATR72-500s, 9 ATR72-600s, 14 A319s and 9 A320s.
About BVB
Borussia Dortmund (www.bvb.de/eng) is one of the most traditional and popular German football clubs. Founded in 1909, BVB boasts around 10 million fans within Germany and, in addition, also looks to a rapidly growing fan base worldwide. The eight-time German champions and four-time DFB-Pokal winner was in 1966 the first German club to win a European Cup competition; BVB also became the first Bundesliga club to win the UEFA Champions League in 1997 followed by the Intercontinental Cup in the same year. With a total turnover of over 400 million Euro, Borussia Dortmund nowadays is also one of the economically strongest football clubs in the world.